Anti Theft Corrosion Resistant Glass Exterior Doors Sound Insulation
Product Detail
Product Tags
America Standard Building High Wind Loading Glass Aluminum Frame Windows
Description:
In areas with hot summers and cold winters, Low-E insulating glass is recommended.
If possible, you can also choose double silver Low-E glass,
In summer, the outdoor temperature is higher than indoors, and the far-infrared heat radiation mainly comes from the outdoors. Low-E glass can reflect it out to prevent heat from entering the room;
In winter, the indoor temperature is higher than outdoors, and the far-infrared heat radiation mainly comes from indoors. Low-E glass can reflect it back indoors to keep the indoor heat from escaping.
Low-E glass can still allow part of the solar radiation from the outside to enter the room. This part of the energy is absorbed by indoor objects and then converted into far-infrared heat radiation and left indoors.
Aluminum windows are windows with frame and fan structure made of aluminum building profiles.
They are divided into ordinary aluminum doors and windows and broken bridge aluminum doors and windows.
Aluminum windows are beautiful, sealed, and strong, and are widely used in the field of construction engineering. In home decoration, aluminum doors and windows are commonly used to encapsulate balconies. The surface of the aluminum is oxidized and shiny. The window sash frame is large and can be inlaid with a larger area of glass, allowing sufficient and bright indoor light, enhancing the contrast between indoor and outdoor facades, and making the living room more layered. Aluminum itself is easy to squeeze, the cross-sectional dimension of the profile is accurate, and the processing accuracy is high.
Aluminum Frame Glazed Windows
Classified according to windows opening way:
Swing(Casement ) window,Awing (Hopper)window,Sliding window,Folding window,Fixed window,Single or Double Hung window,Tilt&Turn window,Sash window, Shutter(Louver) window,Pivot window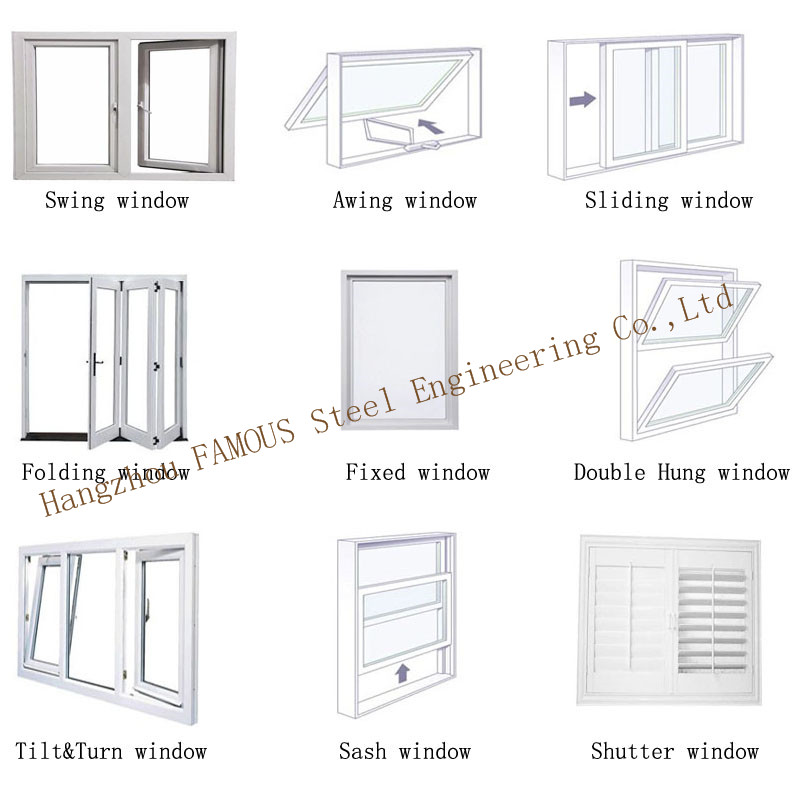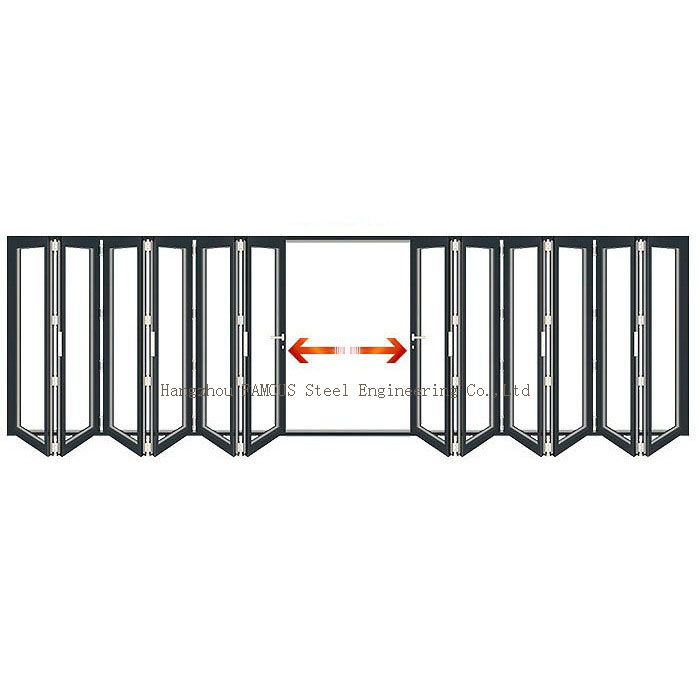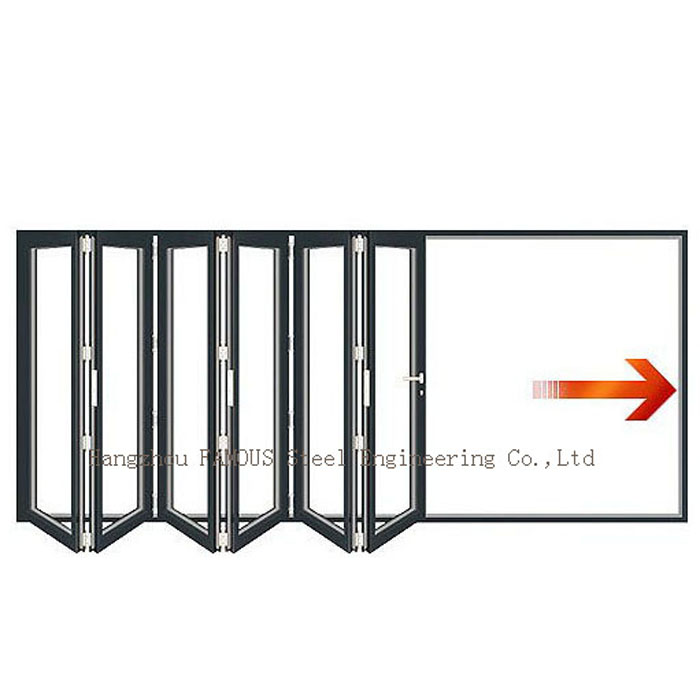 Material Selection:
Aluminum Frame:50 series, 55 series, 60 series,70 series ,80 series ,85 series, 90 series,100series and so on.
Single Glass:5mm/6mm/8mm/10mm/12mm…
Double Glass:5+6A+5 /5+9A+5 /5+12A+5/…
Frosted Glass:5mm/6mm/8mm/10mm/12mm…
Reflective Glass::5+6A+5 /5+9A+5 /5+12A+5/…
Low-E Glass :5mm+12A+5mm
Color: customized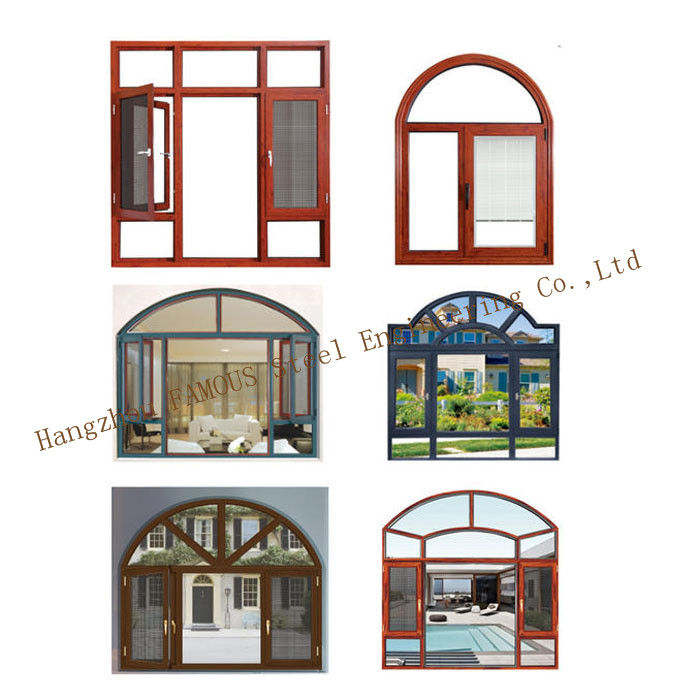 Item Name
Aluminum Profile Frame Double Toughened Glass 6MM+12A+6MM Windows
Size
Customized
Profiles
1.1.4-2.0mm thickness aluminum profiles
2.Aluminium alloy profiles frames
3.Status: T5 T6 or other special status
Glass
1.Double toughened glazing:5+12A+5,6+12A+6…
2.Single toughened glazing:6,8,10,12…
3.Laminated glazing:6.38,10.76,10.38…
4.Low-e glazing, frosted/obscure glazing, grey/blue/green tinted glazing…
Hardware
Chinese top hardware or customized
Mesh
1.Stainless steel security mesh
2.Aluminium security mesh
3.Burglar screen
4.Mosquito screen
Finish
1.Powder coating
2.Anodized
3.Electrophoresis
4.Wood grain
Types
Swing, fixed, Sliding , Awning, Bi fold…
Lift and sliding door, Pivot door, Escape door
Sensor door, Glass louvre, Aluminum louvre
Sunroom windows and doors
Color
Gray, Black, Silver, Wood Grain, others customized color
MOQ
1 set
---
Previous:
Double glazing low-E reflective glass SGP laminated insulated glass for large outdoor windows
---
Write your message here and send it to us