Australia AS Standard Aluminum Frame Glass Facade Curtain Walls For Commercial Office Building
Product Detail
Product Tags
Australia AS Standard Aluminum Frame Glass Facade Curtain Walls For Commercial Office Building
Curtain walls are becoming a popular application for photovoltaic glass in buildings. They allow for owners to generate power from areas of the building they had never thought of. Buildings become a real power plant, keeping their design appeal, aesthetics, efficiency and functionality.
Both amorphous Silicon and crystalline Silicon glass can be used for curtain applications, and choosing one or another will depend on your design preferences, energy needs, and daylight requirements.
PV Glass for curtain walls comes frameless, and it can be assembled into any commercial system. From a mechanical prospective, the glazing contractor will take care of its installation, and then the electrical contractor will interconnect the units.
Different visible light transmittance levels are also an option. A typical curtain wall system can combine semi-transparent PV Glass for the vision areas, together with fully dark glass for the spandrel. This strategy contributes to optimizing the energy yield from the elevation, while maintaining unobstructed views.
System technology:
Free choice of material (steel or wood), for profile widths from 50 mm
Same interface profile for mullions and transoms
Overlapping via vertical and horizontal single-Piece overarching sealing profiles with different drainage levels
Simple and efficient fixing of the aluminum profile by means of screws
Alternative simple fixing technique using steel studs for steel tubes with a wall thickness from 4 mm
Ideal for vertical and polygon façades, sloped glazing and spatial structures
Glazing from outside with visible or concealed screws
Specification:
| | |
| --- | --- |
| Product Name | PV Glass Curtain Wall |
| Product Type | Curtain Wall |
| Feature | Modeling, Decoration, Heat Insulation, Security |
| Color | Customized |
| Regular Thickness | Profile & glass thickness depend on local climate and wind speed |
| Size | Customized size |
| Surface treatment | PVDF, Powder coating(Akzo Nobel or other Famous brand) Or Customized |
| Certification | ISO9001-2000, CHINA SQUARE&ROUND COMMITTEE DNV |
| Hardware | Roto hardware, GU hardware, Siegenia Hardwarefrom Germany or Kinlong or Customized |
| Applicable place | Exterior building/Hotel/Shopping mall |
| Notice | Pls send detail drawings, elevation draw, 3Dpictures , building location,and wind speed for any calculation.If any special inquiry, pls kindly mention for quotation. |
Features:
1. Full-glass curtain wall is fully transparent and all-in-view, and pursues exchange and integration between the inner and outer spaces. People could clearly see the whole structural system of the glass, so as to turn the structural system from supporting role to performance visibility and to demonstrate a sense of architectural aesthetics, type, hierarchy and space impression.
2. The system is light in weight, and features simple selection of material, processing in factories, fast construction and convenient maintenance. Also, it's easy to clean.
3. For the effect of enriching architectural elevation, this system is unparalleled, and is a perfect embodiment of the modern science and technology in the building decoration.
Cost of facade-mounted PV modules can be partially offset by the cost of the glazing infill they replace. In many places, there are subsidies or tax credits to further help defray first cost. PV power generation can be significant. In one modeling scenario, where facade-integrated arrays were assumed to cover south-facing spandrel areas of a suburban office building, PV power output equal to 25% of the building's lighting needs was anticipated. Most demonstration projects are of a smaller scale. In the US, we enjoy relatively low electrical power rates, so justification of BIPV must be based on criteria other than payback time. As society starts to recognize the long-term costs of emissions from conventional fossil-fueled power sources, this equation will change.
Only one unit-to-unit splice (usually a silicone sheet or patch) needs to be field-sealed, and only one anchor per mullion needs to be attached to the face or top of the floor slab. Interlocking unitized glass curtainwall frame members are weatheripped to seal to one another, both horizontally and vertically. This accommodates thermal expansion and contraction, inter-story differential movement, concrete creep, column foreshortening, and/or seismic movement. Most unitized curtainwall systems are installed in a sequential manner around each floor level, moving from the bottom to the top of the building.
Application:
HOW TO CHOOSE FROM PV GLASS CURTAIN WALL SYSTEMS
Selection Criteria
Stick Curtainwall
PV Glass Curtain wall
Project Size
Small
Large
Wall Configuration
Complex(Many changes in plane, e.g. soffits, corners, etc.)
Repetitive(Large expanses of flat wall)
Joint Pattern
Random
Uniform horizontal sill line
Glazing
Field
Factory
Inter-story Movements
Very limited
Inter-locking frames accommodate movements
Quality Control
Subject to site variables(Both environment and equipment)
Controlled factory conditions
Modification
Can be cut-to-fit in the field
Pre-engineered
Sealing
Subject to site variables
Minimal field sealing
Field Labor Cost
High(Many parts to track and assemble)
Low
Field Labor Duration
Slow
Fast(Often setting 75 sqft or more per unit)
Access and Safety
Exterior access required
Set from the interior(Exterior optional)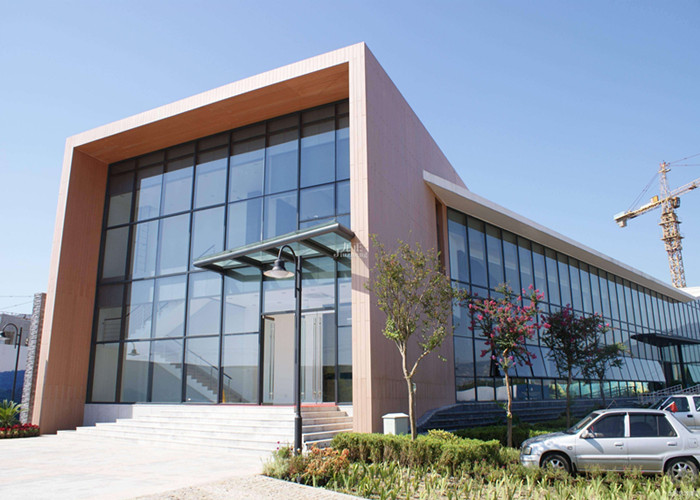 All our pre-glazed façade curtain wall systems are fabricated, assembled and glazed within the controlled environment of our manufacturing facility. This will bring greater quality control and the ability to pre-construct our frame modules before the building's structure is erected; it's also very helpful to accelerate the close-in of the building, since our installation team can work on sections of the building as they become available; while minimizing delays due to weather conditions.
Nowadays the unitized curtain wall system have become the preferred method for enclosing buildings, as more building owners, architects and contractors conclude the benefits of this type of construction. Unitized systems allow buildings to be enclosed quickly, which can help to speed up the construction process leading to earlier occupation. The fabrication process for unitized systems is more consistent than for stick-built curtain walls, as unitized wall systems are constructed in almost an assembly line fashion, indoors, and under controlled environmental conditions.
---
Next:
UK British BS Standard Certified Customized Glass Curtain Wall Aluminum Alloy Windows and Doors
---
Write your message here and send it to us