Design Supply Construction of Tied-Arch Steel Bridge Deck with Bowstring Arch Girder
Product Detail
Product Tags
Design Supply Construction of Tied-Arch Steel Bridge Deck with Bowstring Arch Girder
Tied-arch bridge (also called bowstring-arch or bowstring-girder bridge) is a type of bridge that has an arch rib on each side of the roadway (deck), and one tie beam on each arches, that support deck. Vertical ties connected to the arches support deck from above. It can be considered a bridge between arch bridge and a suspension bridge. They work like arch bridges on one hand, because force of the load on the deck (thrust) is translated as tension to the curved top chord by vertical ties of the deck which try to flatten the arch and to push its tips outward into the abutments. Tips of the arch of this bridge are tied together by a bottom chord. This allows the bridge to be constructed with less robust foundations because force on the abutments is low. Tied-arch bridges can be built on elevated piers or in areas of unstable soil. One more positive attribute of this type of bridge is that it does not depend on horizontal compression forces for its integrity which allows them to be built off-site and then transported into place.
The tied-arch offers a solution when it can be arranged that the deck is at such a level that it can carry the horizontal force as a tie member. The tied-arch is sometimes referred to as a bowstring arch.
| | |
| --- | --- |
| Product Name | Design Supply Construction of Tied-Arch Steel Bridge Deck with Bowstring Arch Girder |
| Width | 7.6meter or customer required sizes,etc. |
| Maximum span | 64meter single span and 200meter multi-span or customized. |
| Bridge deck | Steel composite panel,timber,concrete,etc. |
| Steel grade | Q345B (equivalent to ASTM A572) or customized materials,etc. |
| Loading capacity | 20ton, 40ton truck etc, or HS20-44, HS25-44/Truck 20 |
| Corrosion | Original painted or Hot dip galvanized,army blue,etc. |
| Advantages | Price effective and technical full analysis and supports |
Advantages:
A. Reasonable structure, high rigidity, clear force, high driving comfort, strong adaptability to terrain and geological conditions
B. The technical and economic indicators are relatively advanced, which can shorten the length of the approach bridge and reduce the overall cost of the bridge
C. The bridge is beautiful, reflecting the unity of power and beauty, and the harmony between the structure and the environment, which enhances the landscape effect
D. The workload of inspection, maintenance and repair is large, and it is necessary to detect the stress of the boom, check the status of the anchor, regularly replace the sealing paste, and remove and replace the boom, etc.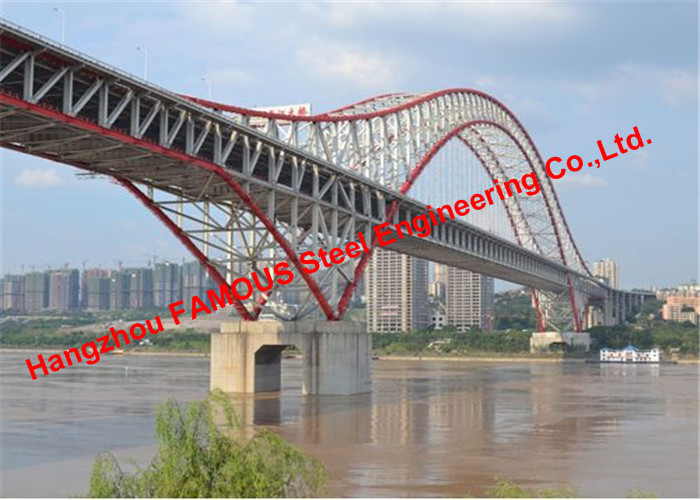 ---
---
Write your message here and send it to us